China genetically engineered rice to increase productivity
---
The key D1 protein in photosynthesis of rice is genetically modified in the cytoplasm, helping to increase yield and heat tolerance.
Scientists from Shanghai Academy of Science and Technology, China, have researched and created a key unit in photosynthesis of rice by genetic process in cytoplasm. The genetic modification of the unit in rice helps the plant have good heat resistance and improve productivity.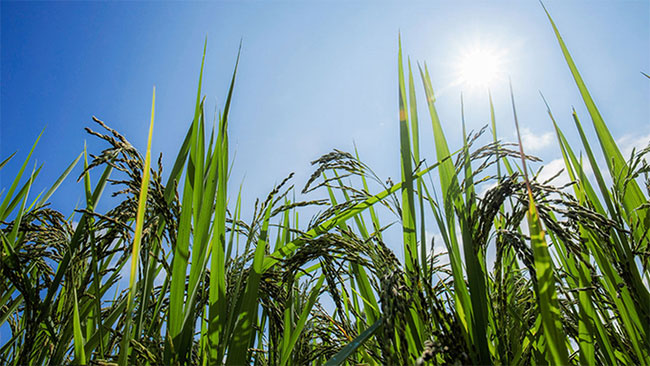 Genetically modified rice. (Photo: Sciencemag).
During the study, the team found that when sunlight shines on rice, a protein complex called Photosystem II (PSII) stimulates electrons, promoting photosynthesis. However, high temperatures can affect the photosynthesis process of rice, disrupting the structure of a key protein unit, called the D1 protein. PSII only works to produce photosynthetic reactions when a new D1 protein unit is inserted. If the production rate of D1 protein is increased further, photosynthesis will take place smoothly.
Instead of making D1 protein from chlorophyll synthesis, the team created D1 by genetically modifying the cytoplasm with a durable, heat-resistant structure.
Experiment with a sample of the Arabidopsis thaliana crucifer, a group that extracts the chlorophyll gene of D1, combines with a piece of DNA that is activated under heat pressure and inserted into the nucleus of the cell. Results showed that Arabidopsis thaliana can tolerate temperatures as high as 41 degrees Celsius for 8.5 hours, while this plant normally experiences high temperatures that have stopped photosynthesis and wilt.
"This case is applicable to rice. If under normal temperature, the yield of rice when genetically engineered increases by 20% compared to normal photosynthesis rice," said Fang Qing Guo, the institute. Physiology and Ecology Plant said.
Sunlight is a major factor in photosynthesis, and rice plants convert sunlight into sugars for growth. The higher the sun's temperature, the easier it is for the photosynthesis to go out of control, and some chemical reactions will accelerate or slow down, affecting the plant's growth. Therefore, this study is a breakthrough in increasing photosynthetic efficiency and crop yield under normal and high temperature conditions.
The most common GM foods
Scientists have found a way to use genetically modified rice to prevent HIV
---
---
FIDITOUR TRAVEL COMMUNICATION COMPANY
Representative: Mr. Tran Van Long - Chairman and General Director
Head office: 95B-97-99 Tran Hung Dao, District 1, City. Ho Chi Minh.
Hanoi Branch: 66 Tran Hung Dao, Hoan Kiem District, Hanoi
Phone: 028 730 56789 | Hotline: 19001177