Spectacular surreal scenes "dolphins glow" under the sea
---
A photographer has recorded images that are thought to be extremely rare as dolphins glow in the darkness of seawater thanks to bioluminescence.
Photographer Patrick Coyne was lucky enough to record great footage of glowing dolphins swimming next to an offshore boat. This photographer described it as the most wonderful moment of his life as a photographer. Patrick Coyne and his friend Ryan Lawler had previously used an inflatable boat in the hope that they would find creatures that would glow.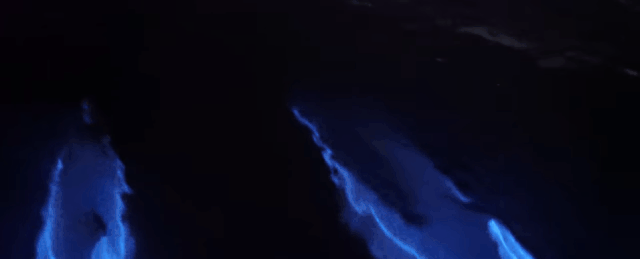 While walking around, they were surprised when two dolphins suddenly appeared, brightening the dark ocean as they swam beside the small inflatable boat. The black sea water and their sleek bodies were lit. The unique phenomenon is a rare sight off Newport Beach for many years.
The cause of this phenomenon was related to a thick red tide that extended out of coastal areas during the daytime, the first indication that bioluminescence could occur, causing Coyne and the two Other photographers, Mark Girardeau and Royce Hutain, went to Newport Beach and they were lucky.
Red tides are unpredictable phenomena and not all of them produce bioluminescence. It is difficult to know how long a red tide will last, the previous times lasting anywhere from a week to a month or more.
During the day, photosynthetic organisms swim in front of the light, creating a thin, dense layer near the surface. Later, dinoflagellates are bioluminescent when hit by waves or perhaps a passing boat will make the water light blue.
Red tide is the term for the phenomenon of algae blooming simultaneously, which is harmful to creatures, including corals, seaweeds, animals and humans. When a red tide occurs, seawater often turns red or other colors depending on the type of algae.
Bioluminescence can usually only be observed at night due to Dinoflagellates. These tiny creatures are the primary source of luminescence in the ocean's photogenic phenomenon.
---
---
FIDITOUR TRAVEL COMMUNICATION COMPANY
Representative: Mr. Tran Van Long - Chairman and General Director
Head office: 95B-97-99 Tran Hung Dao, District 1, City. Ho Chi Minh.
Hanoi Branch: 66 Tran Hung Dao, Hoan Kiem District, Hanoi
Phone: 028 730 56789 | Hotline: 19001177