The "unique" bird can fly for 10 months without landing
---
Scientists were surprised to find that a bird can eat, mate, even sleep while flying and can fly continuously for 10 months without landing.
Apus apus - a common bird nest, is a common bird living throughout Europe and much of Asia. This medium-sized bird currently holds the record for the most time spent in the air world each year.
With so much time in the air, the birds mainly drink and eat in the air, eating any insects they can catch while flying, they can also mate in the air, and they can also sleep in the air by gliding in warm air.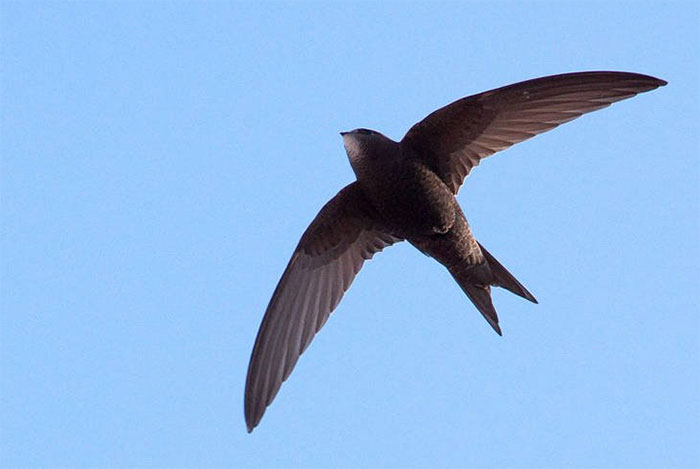 Their bodies adapted to the almost nonstop flight with long and narrow wings.
Theories about how birds can spend most of their lives above did not originate in the 1950s, but until 2016 new reports became clearer.
A team of researchers at the Department of Biology at Lund University, Sweden, has developed a new type of micro data recorder to track bird movements. The findings show that ordinary birds nest spent more than 99% of their time during the 10-month period of not breeding in the air.
Ian Hedenström, a French researcher, said he believed that birds somehow slept while flying. Their bodies adapted to the almost non-stop flight with long and narrow wings, short and light legs, and they had an almost perfect aerodynamic shape. They also shed their hair very slowly over a period of six months, leaving no significant gaps that could affect such long-haul flights.
Ordinary birds have a higher survival rate than most birds and their flight time is thought to directly affect that. Being in the air for a long time means they don't have to worry about predators, except that the birds of prey capture them suddenly and they can't come in contact with too many parasites.
Data of scientists show that birds nest from 20 years and older and during their lifetime they can fly over 3 million km.
---
---
FIDITOUR TRAVEL COMMUNICATION COMPANY
Representative: Mr. Tran Van Long - Chairman and General Director
Head office: 95B-97-99 Tran Hung Dao, District 1, City. Ho Chi Minh.
Hanoi Branch: 66 Tran Hung Dao, Hoan Kiem District, Hanoi
Phone: 028 730 56789 | Hotline: 19001177